Earlier this month we attended the 2014 Barrett-Jackson Collector Car Auction in Scottsdale, Arizona to watch our 1964 Ford Fairlane Afterburner and 1967 Ford Mustang Kona. While we were there perusing the endless rows of shiny classics, muscle cars, and rare exotics, there was one vehicle that immediately caught our eye – a custom 1972 Winnebago Brave dubbed "The Hot Rod RV."
It was low. It was faded. But inside, it was decked out in wooden planks, sports stadium seats, plaid upholstery, and other random accoutrements. Thought this was an interesting treatment to give a classic RV, we knew there was much more potential to this throwback to so many people's childhoods. And that is when the gears started turning and we started bidding.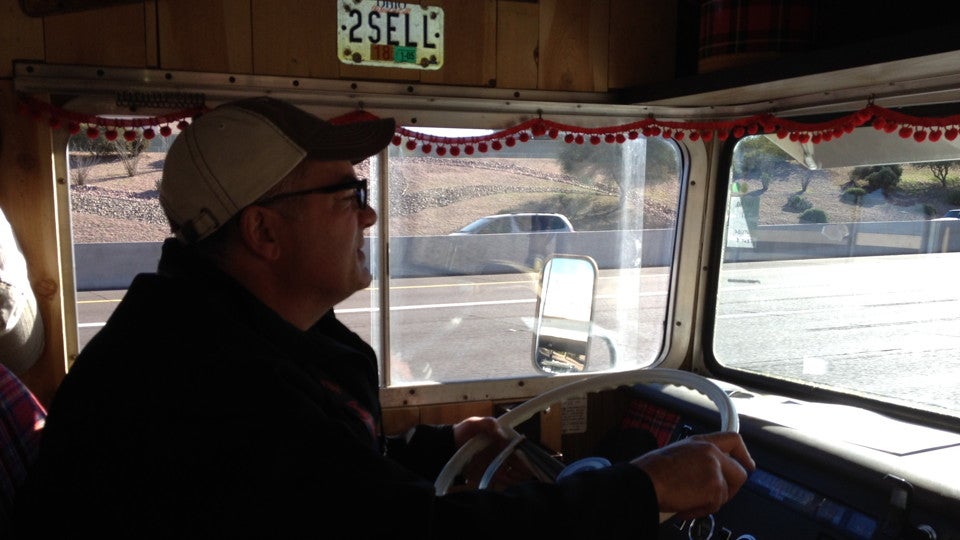 Having won the auction we took our new RV for a spin. Its Mopar 318 was very, very tired, it only had one working brake, and it was in desperate need of new tires. So onto a flatbed it went for the journey to its new home in Spring Green, Wisconsin.
Far from the warm, sunny weather of Arizona, our new Winnie arrived and was pulled into the workshop. As we got started addressing the mechanical issues, it became clear that it was going to need more than just some new brake pads and an oil change. And while the current interior was fun, we knew it deserved to be something truly special. So that left only one thing to do – take the whole thing apart! Out came all of the wood paneling, the stadium seating, and the oil-covered 318 until we were left with our blank canvas.
Now that the tear down was complete, it was time to start formulating a plan for the build. After some back and forth discussion, we came up with a great concept that we think people are really going to love. So stay tuned to our blog and follow along as we document the entire build-up of the first ever Ringbrothers RV.